Our Doctors
William N. Lyman, DVM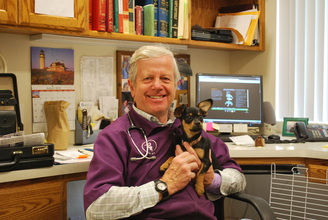 Dr. Lyman was born and raised in Los Angeles, and attended the University of Redlands where he received his Bachelor of Science degree. Working on a buffalo ranch in Wyoming sparked his interest in veterinary medicine. He received his Doctorate of Veterinary Medicine in 1972 from the University of California Davis, School of Veterinary Medicine. After practicing for 4 years in a small animal and mixed animal practice in the Bay Area, Dr. Lyman spent 3 months working in a health clinic serving the veterinary needs of a small community in the mountains east of Mazatlan, Mexico. He then traveled with his wife Debbie around the northwest, looking for the ideal rural community in which to settle. He purchased an older building in Durham, which he remodeled for a small animal clinic. After 14 years in that facility he built the facility which is now Durham Veterinary Clinic, located in central Durham. Thirty three years of practicing veterinary medicine in the town of Durham, where he and Debbie have raised their two daughters, Carolyn and Margaret, has been a dream come true. Veterinary medicine is a wonderful profession which has allowed Dr. Lyman to express his own values and care for animals in a unique setting. He has wonderful colleagues in the surrounding communities with whom he can collaborate in providing excellent care for his patients. His goal is to provide care for his clients' pets just as he would if they were members of his own family.
Dr. Lyman has been on the Advisory and Admissions Committees to the veterinary school; has been on the Board of Governors for the California Veterinary Medical Association; has been a member of the local Veterinary Medical Association since 1976, and has served on the Emergency Clinic Board of Directors until the end of 2011. He also received the Don Low Fellowship in Ophthalmology in 2007, which allowed him to return to the Veterinary Medical Teaching Hospital at UC Davis to study in that area of special interest.
His hobbies include playing the guitar, the French horn, hiking, working on his home property in Yankee Hill, traveling with his wife to enjoy the Moody Blues, and he loves a good book. He has an aging Arab gelding, Teddy, as well as two cats and two dogs at home. The addition of the Doctors Hamilton will allow him to have a more flexible schedule, but he fully intends to continue practicing veterinary medicine as it is one of the major joys of his life.

---
Carolyn Hamilton, DVM, MS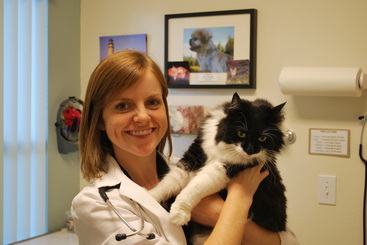 Carolyn was raised in Butte County and graduated from Durham High School in 2001. She completed her Bachelor's and Master's degrees in Animal Biology at UC Davis in 2005 and 2008, respectively. She and her husband, Scott, had the unique opportunity to join her father's small animal practice after graduating from UC Davis School of Veterinary Medicine in 2012. Carolyn has a particular interest in small animal primary care and internal medicine.
Carolyn feels very fortunate to be back in the Chico area and is looking forward to becoming part of the community for years to come. In her spare time, Carolyn enjoys backpacking, traveling, reading, and spending time with her dog Davis and cats, Simon and Matilda.


---
Scott Hamilton, DVM, MS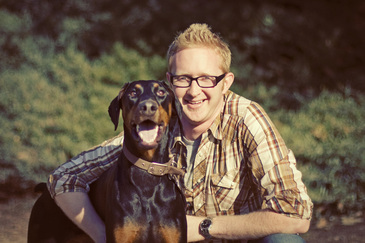 Dr. Scott Hamilton joined Durham Veterinary Clinic after graduating from the University of California, Davis School of Veterinary Medicine in 2012. Scott earned his Bachelor's degree in Animal Science and Management in 2004 and Master's degree in Animal Biology in 2008, both at UC Davis. Scott was born and raised in Tulare, CA and is excited to be practicing in a rural community. He has a strong interest in small animal primary care, dentistry, and surgery.
In his spare time, he enjoys anything associated with the San Francisco Giants. Dr. Hamilton is an avid road cyclist and mountain biker. He also enjoys backpacking and traveling. Dr. Scott Hamilton is married to Dr. Carolyn Hamilton.
---
Our Staff
Debbie Lyman, RVT
Margaret Lyman, RVT - Certified Veterinary Dental Technician
Kim Cunningham, RVT
​Marylin Schmid, RVT
Jane Perry, Receptionist
Carole Cornwell, Receptionist
Kelsey Page, Veterinary Assistant
Christina Reynolds, Veterinary Assistant
---