9417 Midway - Durham, CA 95938 T: 530.891.5707
M-F 8-5 By Appointment
---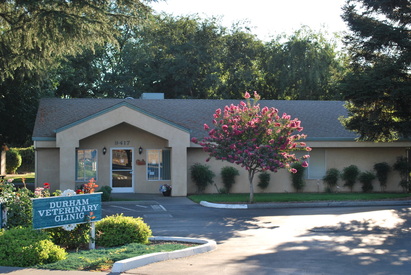 Durham Veterinary Clinic was established in 1979 by Dr. Bill Lyman and continues to serve the Durham/Chico community along with the surrounding areas. In 2012, Dr. Bill Lyman was joined by Drs. Carolyn and Scott Hamilton (Dr. Lyman's daughter and son-in-law). DVC prides itself on providing our patients with up-to-date medicine and treating our clients like family. We are a full-service veterinary medical facility, located in Durham, CA, just a few miles south of Chico. Our doctors and staff strive to provide high quality medical, surgical, and dental care for our patients. Our goal is to help our clients make educated decisions and counsel them in choosing the best care for their pet.


Please take a moment to contact us today, to learn more about our veterinary practice.

We are a true family practice and hope you consider joining our family!

---
---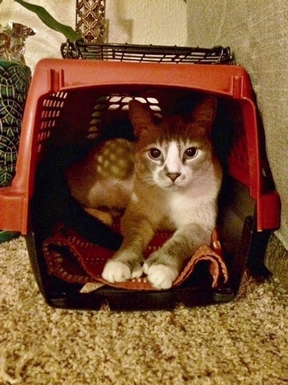 Is Mittens Refusing to Travel in the Carrier?

It's a common problem. It's time to take Mittens, the cat, to the veterinarian for her annual exam and vaccines. You dust off the carrier, which has been sitting in the garage for 12 months, and gingerly set it on the kitchen table, making sure not to make too much noise. You clean it up, put a fresh towel inside, and hope that the nice presentation will be noticed and appreciated by Mittens. Little do you know that she heard the familiar and terror-inducing squeak of the handle the moment you lifted it off of the garage shelf. Immediately, she bolted into the Bermuda Triangle of the house where she won't be found.

The next several hours are spent trying to find and entice her out with lunch meat, cheese, even a broom handle. The frustration and embarrassment of this annual struggle is enough to swear off taking your cat to the vet all together. It also puts a strain on your relationship with her, and she gives you the stink eye for several days afterward. How can we prevent this problem, and make visiting the vet a comfortable experience for human and cat alike?

I had the same problem with my two cats, Buster Posey and Hazel. Anytime they would hear the carrier, they would run under the bed terrified. They associate the carrier with new places and new people, both of which they are not comfortable with. I had to figure out a way to rid them of their fear of the carrier. After many other approaches, I decided to take the door off of the carrier and just leave it open on the floor of my living room.

Three hours later when they deemed it safe enough to come out of my bedroom, they approached the carrier with great caution and began to check it out. I left it on the floor next to the couch for several days. At the end of two weeks, it had become a regular man cave for Buster. He would spend hours in it snoozing or just hanging out. Without the threat of being trapped inside, and keeping it stationary, he was able to go in on his terms and feel safe and comfortable.

Hazel took much longer (we're talking months) to warm up to the idea of going inside for more than a moment. Now, she is in it almost as often as he is. It isn't the most attractive piece of decor in my home, but it is a spot of comfort and security for my cats. Now when I go to put them inside for a trip to work, they don't get nearly as upset as before. They still vocalize a bit and get a tad anxious when I put the door on it and load them in the car. Even so, they see it as a piece of home that is coming with them, where they know they are safe. When it is time to load them up to take them home, they practically run inside the carrier!

If you have trouble getting your cats to even be in the same room with their cat carrier, try this out. It may take 2 days, or it may take 2 months. Stick with it, and you may be able to make a trip to the vet much less stressful for you both!

Other tricks besides carrier desensitization include: Feliway spray, plug-in or wipes (Amazon.com); keeping their bed in the carrier so it smells like home; taking the top off and keeping the bottom out with a blanket to serve as a cat bed; etc. For more information, call your local veterinary hospital.


---
---
Preventative Health Care Programs for Dogs and Cats
Since opening our doors in 1979, we have offered Preventative Health Care (PHC) programs for all animals. The programs are based on the concept of providing complete health care for well animals in one annual visit (animals under 4 months of age may require two or more visits the first year). This approach helps prevent illness, and enables you , your pet, and your veterinarian to get acquainted before unexpected problems arise.

We offer puppy and kitten Preventative Health Care packages at a discounted rate. Please call for more information.
---
Payment Policy
We require payment in full at the time that services are rendered. For your convenience, we accept Visa, MasterCard, AmericanExpress, Discover, cash and personal checks. Please feel free to inquire further about payment policies.

---
Follow us on Facebook